If you're an online marketer, chances are that you have already read at least one ClickFunnels review. After all, it's considered THE ultimate solution to all your sales funnel woes, right? But, is ClickFunnels really a platform worth trying? What has made it the talk of the town? And, are there any risks to avoid before you decide to invest in it?
Let's get one thing straight…… ……..You're here because you are interested in trying ClickFunnels, but aren't sure about it yet. Perhaps, you've got plenty of questions, and you're seeking answers over the internet. But, alas! The more you search, the more you get confused.
The internet is inundated with positive reviews about ClickFunnels, which gets you thinking… "Wow, there's no way I'm not gonna try this platform. ClickFunnels is THE silver bullet I've been looking for all my life!" But, wait. Don't reach any conclusion yet.
Only a few people provide genuine ClickFunnels reviews online, as a wide majority of all those who use this software (and have reviewed it) have a financial tie to it. So, how do you separate the sheep from the goats? Fret not! We've got you covered. In this article, you'll find a comprehensive, zero-fluff, no-nonsense ClickFunnels review to make a well-informed decision before jumping in feet first. So let the ClickFunnels review begin!
In This ClickFunnels Review…
You'll learn:
The nitty-gritty of ClickFunnels (How it works, Features, Pricing and more)
Three drawbacks of ClickFunnels
One serious issue about the ClickFunnels hype
Who should use ClickFunnels
Two pocket-friendly ClickFunnels alternatives
Quick Summary
What is ClickFunnels?
For those who are new to the world of online marketing, let's quickly discuss what ClickFunnels is and how it promises to help your business earn money online. Created in 2014 by Russel Brunson (the author of DotCom Secrets) and his team, ClickFunnels is a software that helps you build sales funnels, with a lot of bells and whistles. ClickFunnels promises to provide you with all the tools and strategies that you need to market, sell, AND deliver your products and services online, without hiring costly tech developers. You can use ClickFunnels to create:
Landing pages for different products and services
Squeeze pages to solicit opt-in email address from your potential customers
Sales pages for your products or services
Events such as Webinars
Membership funnels to share knowledge with your business partners, customers, and employees
Affiliate program funnels to promote your affiliate products or services
And, every other kind of sales funnel you can possibly imagine, complete with order bumps, upsells, and downsells
Take a look at their jaw-dropping stats: 100.8K entrepreneurs actively using ClickFunnels, 5.86 million funnels built and $4.2 billion processed. Since its launch in September 2014, ClickFunnels has grossed more than $250 million in sales, making it one of the quickest developing non-VC-backed businesses across the globe. Pretty impressive!
What makes ClickFunnels special?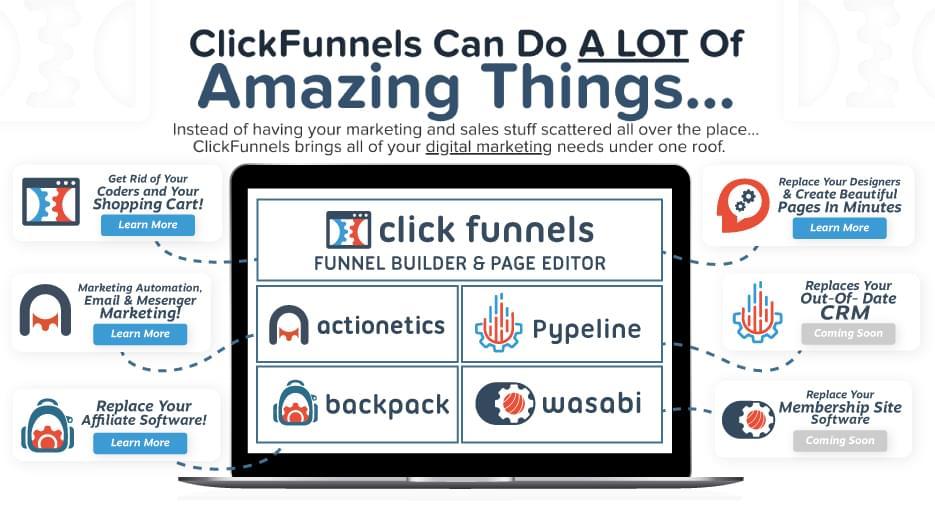 We've compiled a list of key features that make ClickFunnels a great option when it comes to building online business funnels.
1. Easy to use
ClickFunnels is equipped with a simple drag and drop editor. You don't need any coding or tech skills to create your sales funnel. In the landing page builder, you can select to either start a page from scratch, or use any existing template from the ClickFunnels database. You can even adjust the templates however you want, saving time simply editing an existing sales funnel.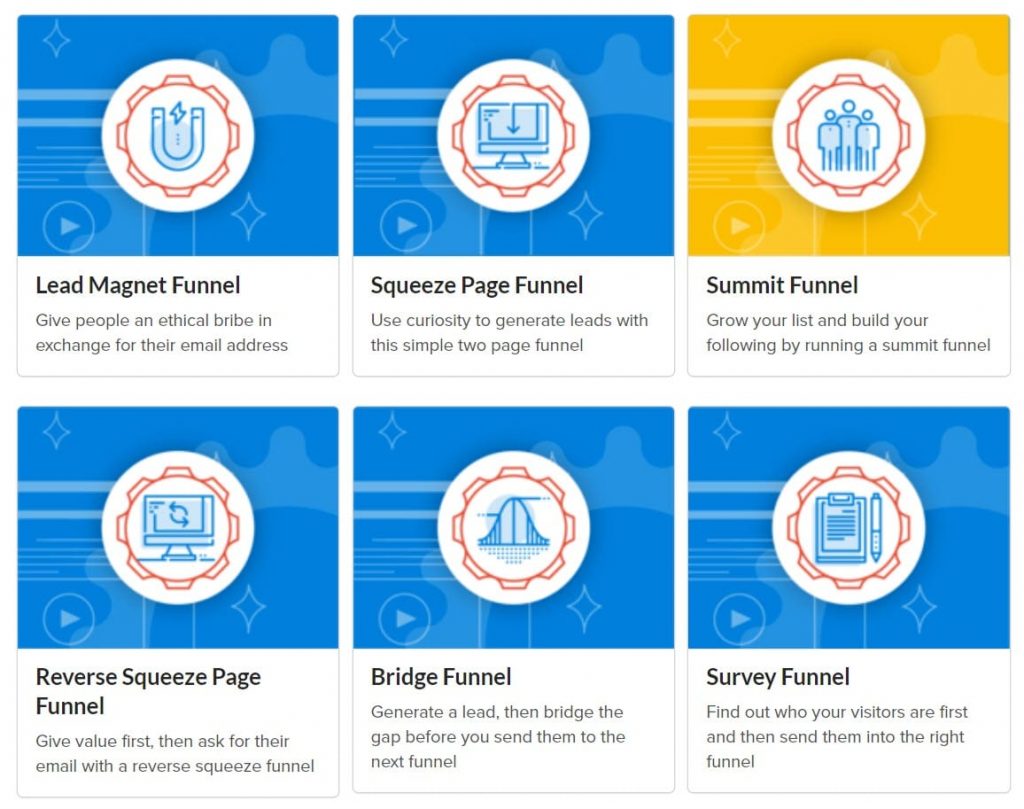 2. All-In-One Platform
Everything is organized in a single, straightforward dashboard… which is easy to navigate. So you don't have to juggle a lot of different tools and platforms. ClickFunnels' dashboard is pre-formulated, which means there's no setup involved. You can even look at your funnel stats using its menu bar.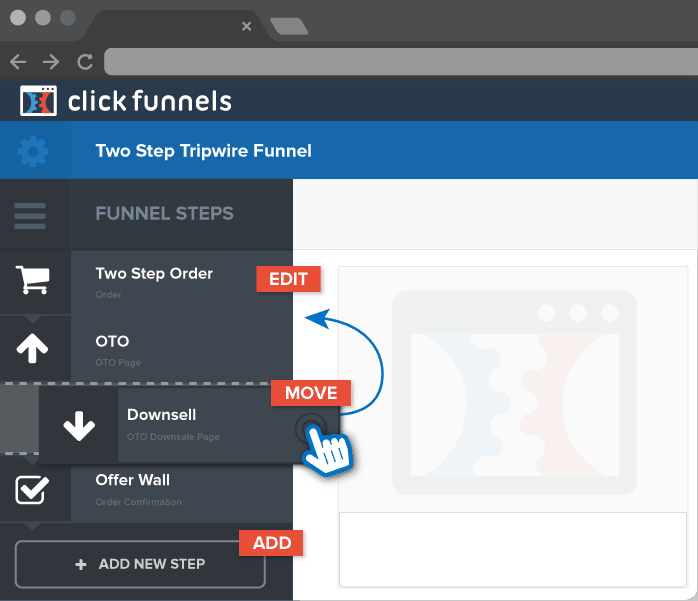 3. Marketing Automation
To provide a complete solution for building powerful funnels, ClickFunnels supports Email and Social Media marketing automation (such as Facebook). You can easily set up email messages and sequences to connect with your users. ClickFunnel tool, Actionetics, lets you create simple-yet-powerful and personalized follow-up funnels that resonate with your potential customer, and increase your conversions. You can even use Actionetics to send out broadcast messages to the subscribers via email, direct mail, and texts that land straight into their smartphones. The platform does real-time lead scoring and assigns every subscriber an action score. You can segment and target customers based on how valuable they are to you by looking at your subscribers' score in the Actionetics as well.

4. Smart Shopping Cart With One-Click Upsells
Increase your cart value by adding extra sales funnel pages, offering a lot of additional products or services to visitors after they purchase. Your users won't have to undergo the whole checkout process again. With just a single click, ClickFunnels can add any upsell to their purchase!
5. No Installation Needed
One of the best features is that you don't have to install ClickFunnels on your system. Just login and start clicking right away. You can create all of the online business pages in your marketing funnel directly from the members area.
6. Security
Your funnels are secure with ClickFunnels. They've built the platform from the ground up to ensure that your funnels, subscribers, and members areas are well-protected. Also, there's no need to worry about regularly updating plugins that can be easily compromised.
7. No Fixed Contracts
ClickFunnels doesn't tie your hands with long-term contracts or obligations. You can use it on a monthly basis, and cancel your subscription at any time, right from your account. No need to call, email, or talk to any ClickFunnels rep!
8. Free Updates
ClickFunnels constantly updates their platform and adds a lot of new templates so that you stay ahead in the game. And guess what? You get it all for FREE! This is because ClickFunnels is a cloud-based software. So when they make any update or add any new features, these changes automatically appear in your account.
9. Virtually Unlimited Scalability
ClickFunnels is hosted on the biggest public cloud cluster across the globe, which is powered by Amazon and backed up by CloudFlare Security + CDN. So, you can enjoy virtually unlimited scalability in real time. Whether you send a hundred users daily or more than a few hundred thousand, it won't slow your ClickFunnels platform down!
10. Integrations
With ClickFunnels, you can also integrate your own favorite tools to add a lot more fun to your funnel building process. For instance, you can integrate external email autoresponders and shopping carts into the platform. You can even organize a live webinar by integrating ClickFunnels with a third party software like GoToWebinar or Zoom.
11. Learning On The Go

Funnel Flix offers a whole lot of videos to help you come up with kickass funnels that guarantee business sales. From affiliate programs to the story, hook and offer related lessons, you can find almost everything covered in their database.
12. Hosting Customer Training
Did you know, nearly 87% of people believe that brands should put a lot more effort into offering a consistent customer experience? You can definitely improve your customer experience by training your customers on how to use your products right. ClickFunnels allows you to host your training material (videos, text or any other format) as well as subscription content directly on the member's page. No third-party learning management system needed!
13. Simple Checkout Process
According to Salesforce, 74% of customers are likely to switch brands if they find the procurement process too demanding. ClickFunnels lets you create a simple, non-perplexing checkout process, reducing cart abandonment. You can use the customary order form, or the distinct two-step form to capture your lead's information. Also, increase your profits (up to 20-30%) by adding instant order bumps within your ClickFunnels pages to boost impulse purchases.
14. Affiliate Centers
Just two extra pages and a couple of minutes is all you need to add your own affiliate marketing program to the back of ANY sales funnel using ClickFunnels' Knapsack tool. You can alter commission policies and affiliate types, and manage disbursements along with creating affiliate areas for your members with easily downloadable banner ads and example copy, accessible from their extensive database. Here's the best part: Your affiliate links can direct to ANY of your ClickFunnels pages, so your members accumulate sales just for sharing your free content.
15. Analytics
You can easily track the performance of your sales funnels within your ClickFunnels Dashboard. From getting a visual chart comparing opt-ins, page views, and business sales for numerous funnels, to tracking the number of people joining your lists, you can view everything in your ClickFunnels dashboard. Even your best converting funnels! Automatically monitor and measure all of your most crucial stats on ONE easy-to-check page. Talk about convenience!
How Much Is Clickfunnels Worth?
With the plethora of benefits it offers, we're sure you'd want to know the actual cost of ClickFunnels. After all, how can our ClickFunnels review be complete without discussing the pricing? ClickFunnels offers two pricing plans that cover different features. The first pricing model is the basic plan, which costs around $97 per month, while the other is the ClickFunnels Platinum Plan (previously called the Full Etison Suite) fixed at $297 per month.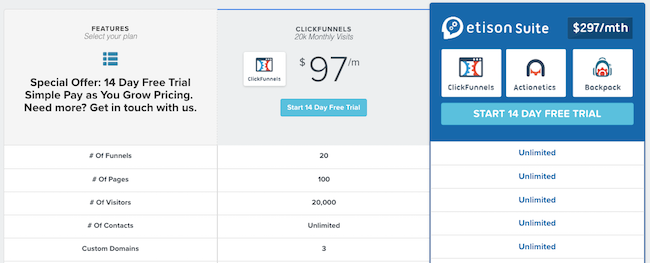 We know what you're thinking….. …..with big features comes a big price tag! Now let's take a look at each ClickFunnels pricing plan in detail.
Basic ClickFunnels Plan (USD $97 per month)
A number of users start out with this basic plan. You can have a maximum of 20 funnels, 100 total pages, 1 user with admin rights, 20,000 visitors per month, 3 payment gateways, and 3 custom domains. But many people report that it actually allows more than 20,000 visitors per month, so that shouldn't be an issue. The bad part is that this plan doesn't cover Follow-up Funnels or Weekly Peer Review Hackathons, where a coach guides you step-by-step through the funnel building process. However, you can access Funnel Flix to watch online training videos, and Funnel Hacker Forum to interact with your fellow FunnelHacker community. This plan usually works fine for newbies who are tight on their budget, and can make do with a limited set of features.
ClickFunnels Platinum (Formerly Full Etison Suite) (USD $297 per month)
Claimed to have a total value of more than a four-year college education, this plan covers everything mentioned above (but unlimited) and a lot more features. You can have 3 users with admin rights, 9 custom domains, and 9 payment gateways. Also enjoy hours of additional training and courses via Funnel Flix Platinum, which is guaranteed to shorten your learning curve. Avail priority chat support along with VIP access to Funnel Hacker Forum AND Weekly Peer Review Hackathons is also included. They're soon going to launch another plan called ClickFunnels Collective. They haven't disclosed any information about this plan yet, so let's just keep our fingers crossed. Before you choose any of these plans, go ahead and give ClickFunnels a try. They offer a 14-day trial absolutely FREE. Access your free ClickFunnels trial here.

Is ClickFunnels Legitimate?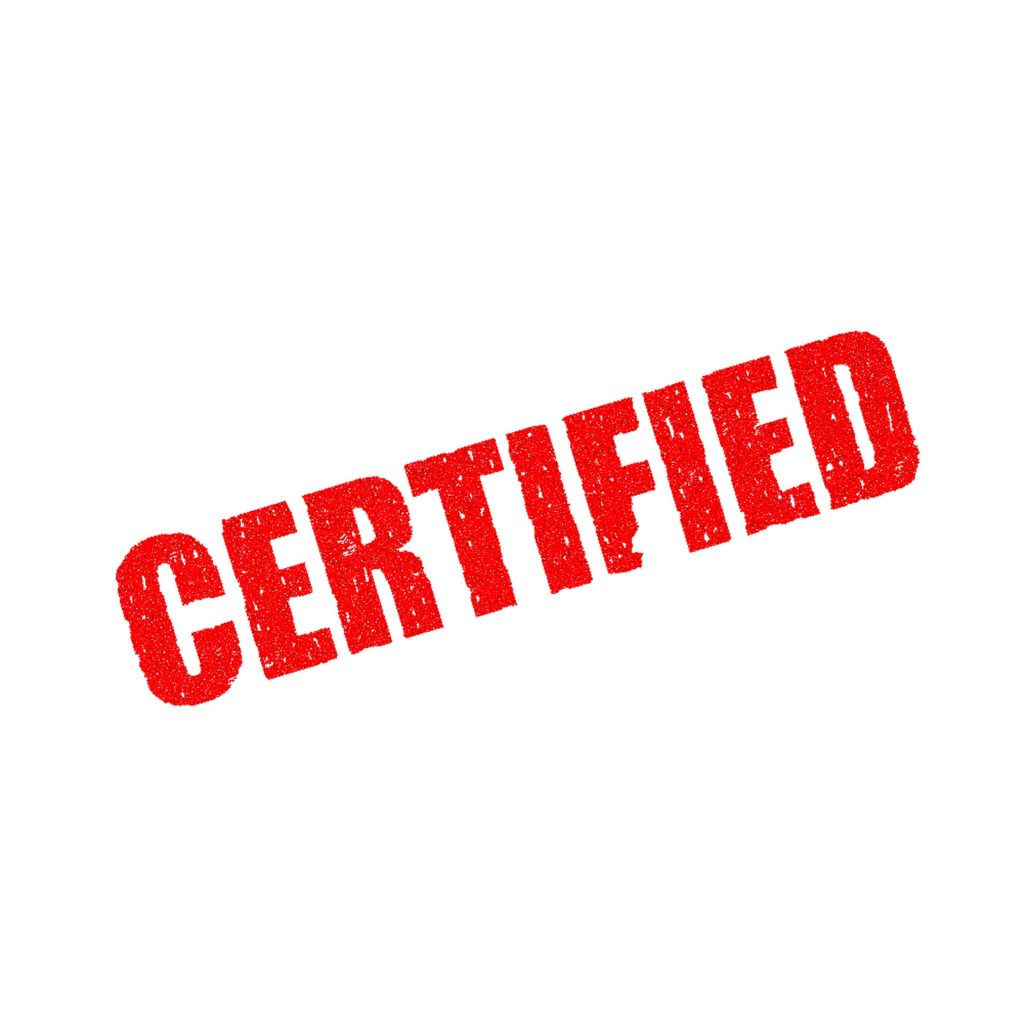 ClickFunnels is a very legitimate company, definitely no doubts about it! In fact, it secured a top spot on the Inc. 500 list for the 2nd consecutive year, an acknowledgement received by merely a quarter of Inc. 500 beneficiaries. This year, ClickFunnels is positioned at 440 on the list, with a 1,034.8% three-year growth rate (from 2015 to 2018). Unquestionably, ClickFunnels is an innovative online sales and marketing platform that has been helping entrepreneurs and business owners ever since it has come to life. The business also conducts training programs such as the One Funnel Away (OFA) Challenge, which has produced some of the most coveted sales and marketing masterminds in the industry.
3 Drawbacks of ClickFunnels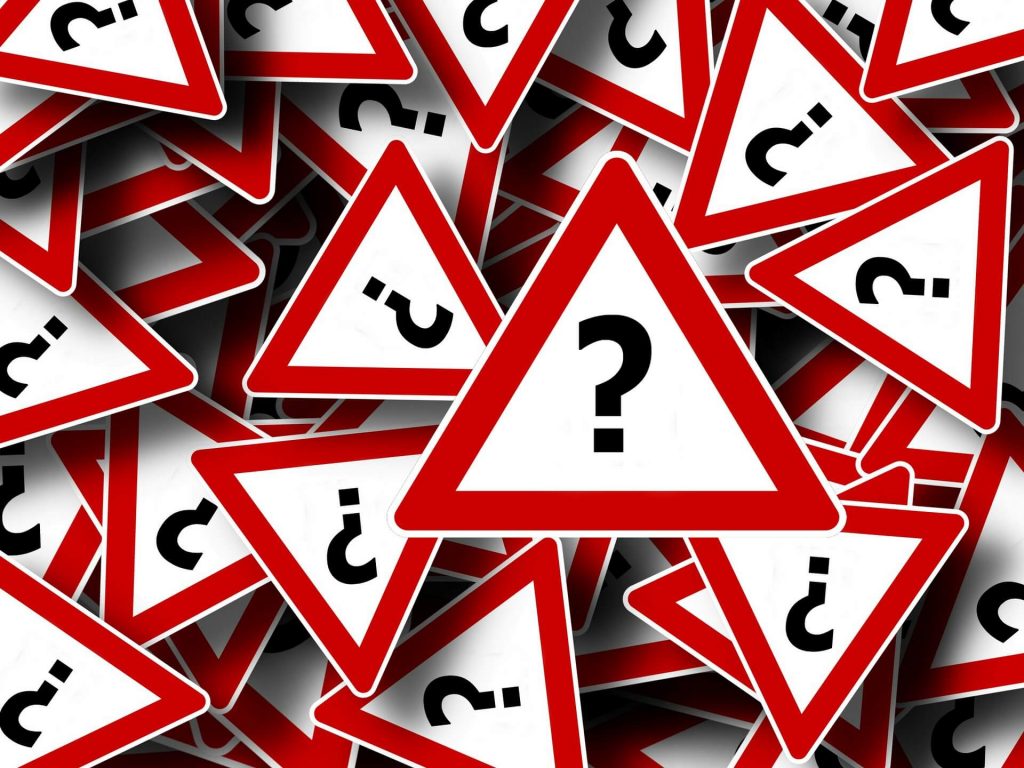 We totally understand how difficult it is to resist something that's jam-packed with mouth-watering perks. But before you jump on the bandwagon of ClickFunnel enthusiasts, we want to tell you something….. with our hand on our heart …. See, we've been completely honest in our ClickFunnels review so far… but it wouldn't be fair if we only showed you one side of the coin. You'll find very few online reviews that actually criticize or highlight the bad points about ClickFunnels. This is mainly because nearly everyone who is tirelessly supporting ClickFunnels is also a part of their affiliate program. As we said above, they're financially tied to it… which stops them from telling the truth. But we'd rather have the veracity to put two and two together. Even though we appreciate the tech-savvy features and quality of training that ClickFunnels offers, there are three things you need to know…
First, ClickFunnels is aggressively priced for what you get. You'll find a number of alternatives in the market that can save you 25 to 75%, such as Leadpages and WordPress. We'll cover each of these in detail in the upcoming section.
Second, while an all-in-one platform appears to be a seamless solution, it's actually very risky. If one point fails, your entire business is doomed.
Third, ClickFunnels has bugs. You'll find tons of bug reports out there. Now imagine a bug hitting you when you're running traffic worth thousands of dollars. It could literally make your paid traffic go haywire by directing it to dead pages!
Your only recourse is then to contact ClickFunnels support which, by the way, is awful and super slow. It seems as if they HATE their jobs. We aren't the only ones saying this, either. Just Google 'ClickFunnels Support Review' and you'll find tons of complaints about their customer service. For instance, take a look here!
Another Big Problem…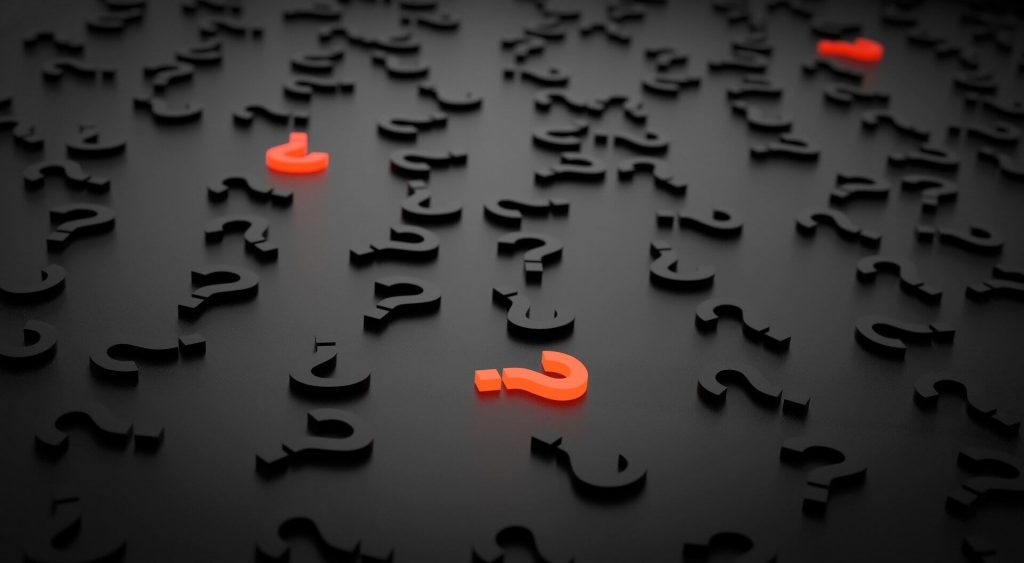 ClickFunnels has had enough people signing up that they don't even care about the number of those who are churning out their affiliates or sending in a swarm of people. And this is where the big problem lies…. The majority of the ClickFunnels reviews that you'll stumble upon online are from the people who aren't actually using it! It's a big fake guru scam that's plaguing our industry. You'll find tons of people who consider promoting ClickFunnels as an exciting business opportunity, and they will endeavor to earn a boatload of money by pushing it. Nearly all of the reviews that you'll find online are unsubstantiated. They are shared by people who are over-glorifying ClickFunnels, hoping to make a long-term commission. So they're really not telling you the truth. They conveniently hide the fact that ClickFunnels has bugs, that its customer support is poor, and that it's possibly an extortionate solution that could be setting you up for catastrophe. All they're interested in is their commission.
Should You Use ClickFunnels?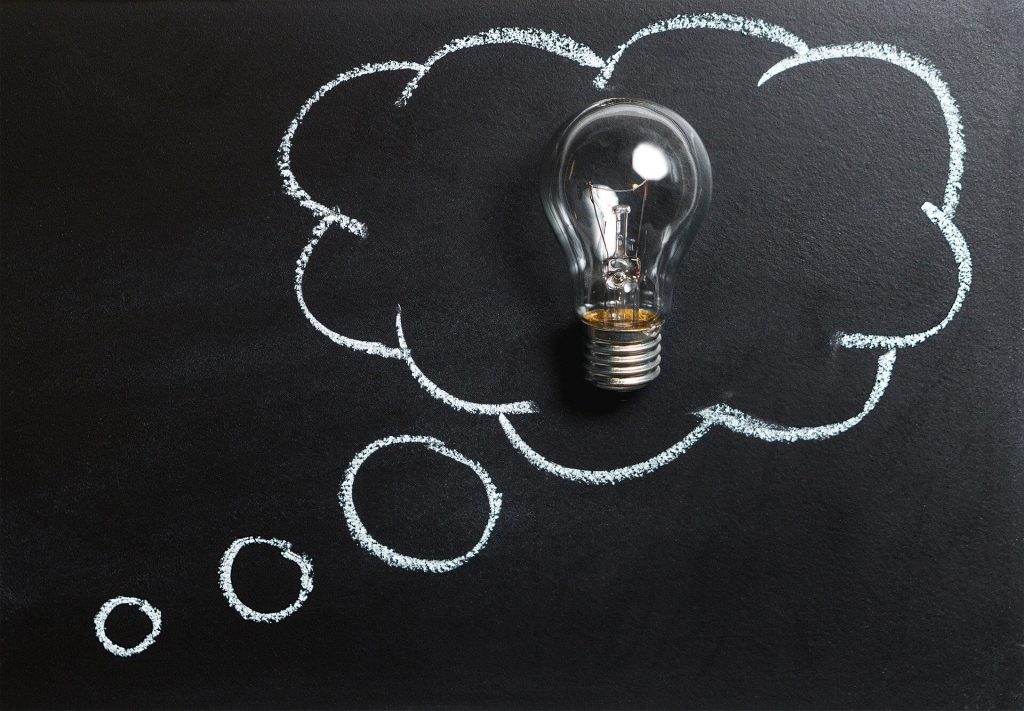 Well, if you're a really high dollar person, and if you and your time are worth $200 or more per hour, ClickFunnels can be great for you. You can use it to build quality landing pages, split test your offers, and much more. Plus, it's simple to use… but only if you're using it for the most basic things. As an integrated system, it does offer seamless performance. But, you constantly face the risk of being dependent on a single system. All in all, ClickFunnels is a fascinating tool if you only sell simple products, eBooks, video courses, and downloadable trainings. It is also useful if you just want to test opt-in offers quickly through paid traffic, which could include dozens of tests every week. But the moment you try to go out of their 'box' and create a membership with a dollar trial and an annual upsell, you're just SCREWED. Basically anything that has to do with YOU customizing THEIR system leads to a fuddle. So, you're completely locked in on what ClickFunnels offers.
What Is Better Than ClickFunnels?
So, what are some kickass ClickFunnels alternatives that offer great performance without denting your pocket? We'd suggest two options; Leadpages and WordPress.
1. Leadpages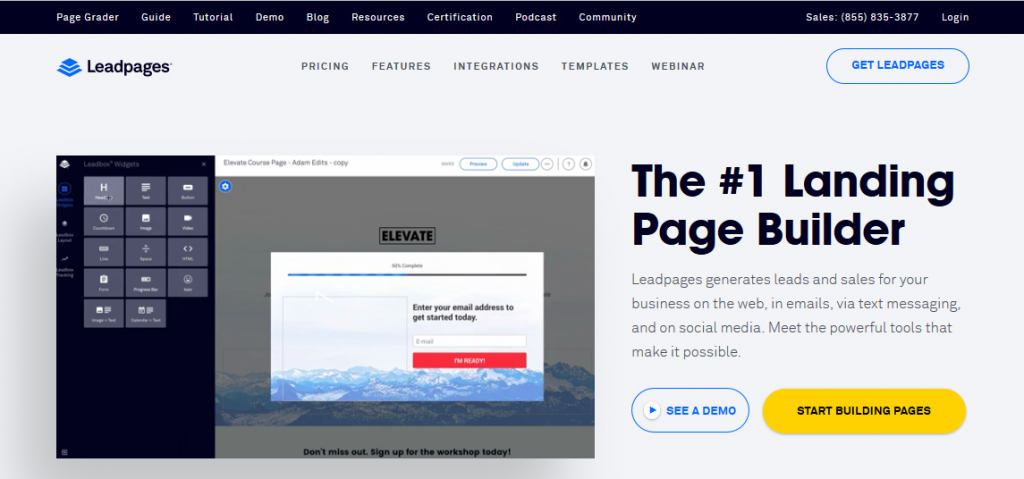 Leadpages is a popular software that helps small businesses and entrepreneurs connect with their audience, generate leads, and convert sales. You can use it to easily create websites, landing pages, pop-ups, opt-ins, alert bars, and more. Some of their key features include: Facebook and Instagram Ad Builder Effortlessly build, implement, and administer Facebook and Instagram ads, pre-populated with your landing page content. You can modify each ad to fit your requirements. Leadpages also places your Facebook Pixel automatically so that you can easily monitor your outcomes and tweak your ads. Five sub-accounts for FREE It allows five free sub-accounts to share access with your team/clients so that you stay on top of your game. You can link these sub-accounts to your main account for centralized monitoring. Reliability Leadpages guarantees 99.9% uptime. It's powered by Google's App Engine, which ensures both reliability and speedy performance. Automatic saving and backup With Leadpages, your content is always safe within the builder, as it automatically saves work every time you make an alteration. In case of downtime, you can access the backup of all your opt-in data right from the system. Also, you can download a .CSV file of your prospective customer data. Website Preview You can preview how your work appears on desktops, tabs, and phones, allowing easy optimization of your content across diverse device screen dimensions. All Leadpages websites have 100% mobile responsiveness. Automated digital file delivery and notifications LeadPages has an in-built Lead Magnet Delivery System that automatically emails digital files and opt-in kickbacks every time somebody becomes your subscriber. You can also use automatic notification settings to receive new subscriber information directly into your inbox. Clone and customize Once you have a great page ready, you can save time by cloning and modifying your content without needing to start fresh with the next one. Simple drag and drop interface Creating funnels is just a matter of few clicks (and a few minutes). It has a drag and drop builder that lets you easily create pages, forms, opt-ins, and more. You don't need any coding or sophisticated tech skills. Plus, there's an extensive menu of design elements to help you all along. Virtual transactions and payments Leadpages Checkouts are supported by Stripe, making sales and digital product delivery hassle-free from any website, landing page, or pop-up. Widgets With Leadpages, you can improve the functionality of pages with a range of widgets such as countdown timers, videos, text, pictures, Calendly, OpenTable, and more. Leadmeter for instantaneous optimization guidelines Predict less and produce more with a tool called Leadmeter, that provides you with data-driven, instantaneous conversion guidelines so that you can build high-converting landing pages. Robust Analytics Leadpages offers robust, real-time analytics so that you can straightaway find out if your page is converting, or pause it to save every penny of your marketing budget. Unrestricted A/B split testing You can improve your pages' performance by carrying out unlimited A/B split testing on any landing page. Customized Branding Leadpages allows you to change the look and feel of all your pages for consistent branding. You can completely modify every webpage and pop-up with your unique business logo and color scheme. Training and Support Unlike ClickFunnels, Leadpages offers responsive assistance really quick, whenever you contact their technical support team via call, chat, and email. You can even enjoy a quick 1-on-1 start call with a Leadpages expert, who'll help you set up your account and start funnel-building right away. This makes your learning curve smooth. Integrations Leadpages supports integration with more than 40 external marketing and sales tools. You can easily connect your preferred tools and direct your leads to your ESP, CRM, webinar app, and more. It also supports advanced integrations such as Hubspot, Marketo, and Salesforce/Pardot. For email marketing, you can even integrate it with MailChimp, Aweber, ConstantContact, and more. Plus, integration with Zapier makes it straightforward to capture leads via optimized ads and landing pages, and then send them to thousands of other apps. Free domain and hosting Got no domain or hosting? No worries! Every account includes free hosting on a Leadpages domain, protected with SSL encryption and hosted on an HTTPS address. Compliance with General Data Protection Regulation (GDPR) All data collected with Leadpages is handled safely and is compliant with GDPR requirements. You just have to include an active consent checkbox to any landing page or pop-up form. And, guess what? Leadpages offers all the bits and pieces you need at almost half the price of ClickFunnels! It has three pricing plans: Standard, Pro, and Advanced.
The Standard Package comes at a price of $37 per month and is ideal for new businesses. It includes one website, unlimited landing pages, pop-ups, and alert bars, 40+ integrations, Facebook and Instagram ad builder, and free hosting. It's definitely much cheaper than ClickFunnels Basic Plan, which only allows 20 funnels, 100 total pages, and 1 admin at most! If you have a growing business, the Pro Plan could be your choice. It costs $79 per month and includes all this plus 3 websites, Online Sales and Payments, Unlimited A/B Split Testing, 10 Opt-in Text Campaigns, and more. The Advanced Plan is priced at $321 per month, and includes up to 50 websites in addition to all of the above features… as well as Advanced Integrations, 5 Pro Sub Accounts, 50 Extra Opt-in Text Campaigns, and 1-on-1 Quick Start Call. This package is perfect for marketing agencies. They've recently launched a new package called START that costs around $19 per month if you only need a single website for your business, though it still comes with unlimited pages. Choose any of these packages to be billed annually, and receive up to 39% in discounts… along with a free domain. You can enjoy your free Leadpages trial here.
2. WordPress
WordPress has a myriad of powerful plugins that you can use to build your DIY sales funnel. You can literally save 75 to 80% off the cost, while creating essentially the same things as ClickFunnels. And it's not so difficult. Really. Although WordPress can be used as a free landing page builder, you can't expect the same kind of quality with a free version that's possible with a premium tool such as ClickFunnels. So, we'd recommend using a premium option like ThriveThemes to improve a platform like WordPress.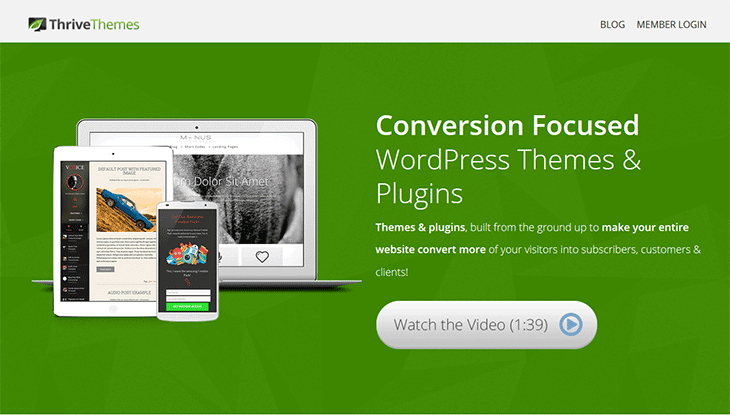 ThriveThemes is a popular suite of themes and plugins that are grouped together to come up with a great funnel building tool, particularly for WordPress websites. ThriveThemes is an affordable alternative to ClickFunnels, perfect for business owners in search of a simple conversion optimization tool. This is probably why nearly 19,021 people are already using ThriveThemes for funnel building. The only drawback is that the ThriveThemes suite doesn't offer a built-in payment processing feature like ClickFunnels, so you'll have to integrate an external platform like Stripe or PayPal. ThriveThemes provides two pricing plans: Thrive Membership and Agency Membership.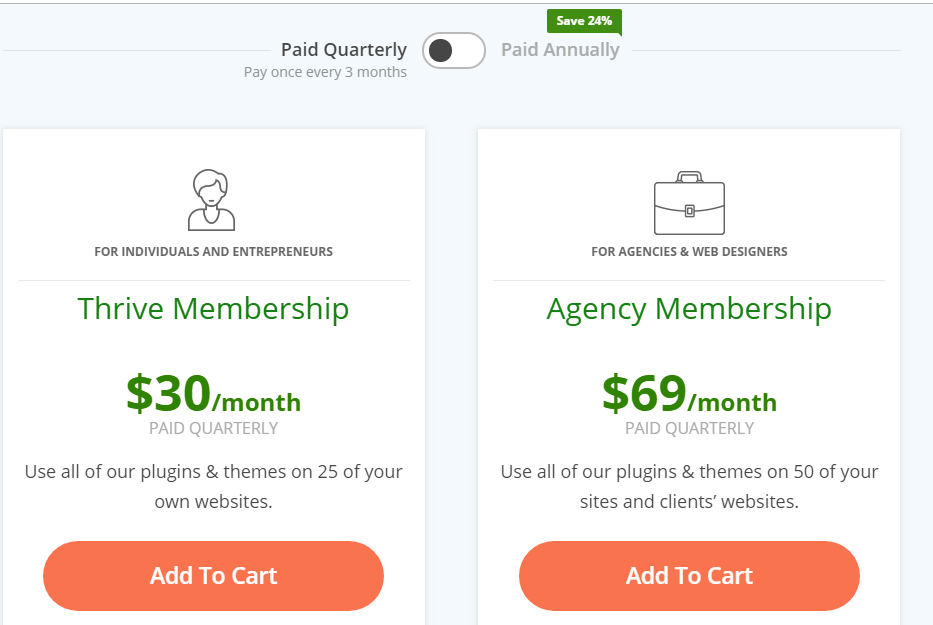 The Thrive Membership is best suited for individuals and entrepreneurs. It costs around $30 per month (if paid quarterly) and you can use all of their plugins and themes on twenty-five of your own sites. The Agency Membership is ideal for marketing agencies, large business owners, and web designers, and costs around $69 per month (paid quarterly). This plan allows you to use all of their plugins and themes on fifty of your websites, as well as your clients' sites. No matter what package you choose, you can save 24% by paying annually. Unlike ClickFunnels, ThriveThemes doesn't provide a free 14-day trial. But, it does offer a 30-day money back guarantee, which is a zero-risk reason to give this tool a try. Some of its key features are: Intuitive Drag and Drop Page Builder ThriveThemes has a remarkable drag and drop builder called Thrive Architect. It's a visual page builder that's put together from the ground up for marketing and sales focused sites. Customizable Landing Page Templates With more than 300 attractive and conversion-focused landing page templates in their database, you can construct professional looking sales pages, opt-in pages, webinar pages, and more. All the designs can be instantly published, and are totally customizable. Pre-Built Conversion-Focused Elements When growing your business, there's no need to use a dozen other plugins. Thrive Architect has built-in conversion-focused elements, such as extremely customizable buttons, custom menu elements, social media icons, and lead generation forms, that go well with your preferred email marketing platform. Testimonials Thrive Ovation is a powerful testimonial plugin for WordPress sites. You can use it to add social proof to your pages by showing customer endorsements. All testimonials are organized at a single spot, with the tags for what they're about. Scarcity Marketing Tools Thrive Ultimatum includes convenient scarcity marketing tools like countdown timers so that you can run limited time offers, sales or promotions. Its Lockdown feature guarantees that the countdown always remains true, even if your visitor changes devices, uses another browser, or clears the cookies. Lead Generation Plugin ThriveThemes has a robust lead generation plugin called Thrive Leads, which is basically a list building solution. It includes every sort of opt-in form in a single plugin, and provides you with a straightforward drag and drop editor to construct perfect designs. You can use this tool to build hyper-targeted and lucrative lists. Plus, you can also enjoy an overview of your metrics right from this tool. Quiz Builder Thrive Quiz Builder helps you effortlessly create interactive and intricate quizzes to engross and enthrall your audience, with zero coding or Photoshop skills. Visitor Engagement Tool For increased visitor engagement, you can use Thrive Comments Plugin to collect all the addictive features of social media networks and community platforms, and add them to your website comments. Easy A/B Testing Use Thrive Optimize for easy, quick, and highly effective A/B testing, right on your WordPress site. Online Course Creation Thrive Apprentice makes it hassle-free for you to build online course lessons, chapters, and modules without high-tech development skills. Other than ThriveThemes, you'll also find plenty of WordPress plugins that allow no-nonsense funnel building. Some of these include CartFlows, Beaver Funnels, OptimizePress and more. Not sure about how to use WordPress for building your funnel? Take a look at our free course for a step-by-step process.
Wrap Up
What tool you choose to build your funnels with depends greatly on your business requirements. Our ClickFunnels review clearly explained all the pros and cons of this popular software. And, we even shared two tried-and-tested alternatives with you. If you are on a tight budget and looking for a great funnel building tool without breaking the bank, consider using Leadpages or WordPress. From lead generation to designing high-converting landing pages, both of these tools are cost-effective alternatives to ClickFunnels, and offer more or less similar functionality. But, if you wish to enjoy full autonomy in designing your own funnels, we'd strongly recommend using WordPress. It's much cheaper than the other two, and provides greater flexibility.