You're just ONE funnel away…… How many times have you heard that before? If you're an online marketer, chances are that you must have heard those exact words countless times now. Russell Brunson has implanted them in your brain the same way Leonardo DiCaprio embedded ideas into human minds in his famous movie Inception. It's just that instead of using dream-sharing technology like DiCaprio, Brunson uses the idea that a single funnel can change your business, your life, and everything in between. Sounds too good to be true, right? You've probably landed on this page because you're interested in the One Funnel Away Challenge training. But perhaps you're feeling a bit lost at the moment. And, maybe you're seeking answers. That's okay! Really. It's natural to feel overwhelmed before making any decision, especially when the internet is inundated with mixed opinions about something. If you're wondering whether or not it's worth investing your time and money into the next One Funnel Away Challenge in 2020, you're at the right spot. In our One Funnel Away Challenge review, we'll cover everything – the good, bad and the ugly, to make it easier for you to make a decision. We'll also share some key steps that guarantee REAL success with your online funnel, without relying on any specific software, course, or membership. Now take a few breaths and let's dive straight into our detailed review.
What is the One Funnel Away Challenge?
The One Funnel Away (OFA) Challenge is a 30-day step-by-step training designed to equip you with everything that's needed to develop an effective path for your prospective consumers to follow and purchase from you. It covers all the steps that you can use to decrease the chance for a customer to say "NO" to your idea. The challenge starts with a pre-training period that focuses on making success your primary mindset. It eases the anxiety that always emanates when starting anything new as you discover the belief that you have in yourself. Next, there's a 4-week action-packed training series that takes you through the fundamentals of a sales funnel. In the first week, you learn all about your story, the hook, and what it takes to create an appealing offer. You will look at other Facebook marketers, learn how to funnel-hack their secrets to success, how to sequence your offers, how to plan the visual design of your funnel, etc. It really provides a basic overview of the process. The second week is all about sales copy (a.k.a copywriting). It covers the process of testing your hooks and stories while producing moments of 'epiphany' for your prospective consumers. The third week teaches you all about funnels. By this time, you would have already spent some time learning about mindset, the basics of selling online, and discovering the power of effective sales copy. You would also learn how to incorporate these elements into a funnel that will crush high conversions and sales. You review everything about creating an expedient funnel that'll bring your leads closer toward a sale. And then, the fourth week takes you through the process of actually making money. You will put what you have learned directly into action. You'll learn about three different traffic types, the differences in leads that are cold, warm, and hot… and will also learn how these types of leads can be converted. You will also learn how to do damage control if your funnel ends up not being a success.
Who are the One Funnel Away Challenge Coaches?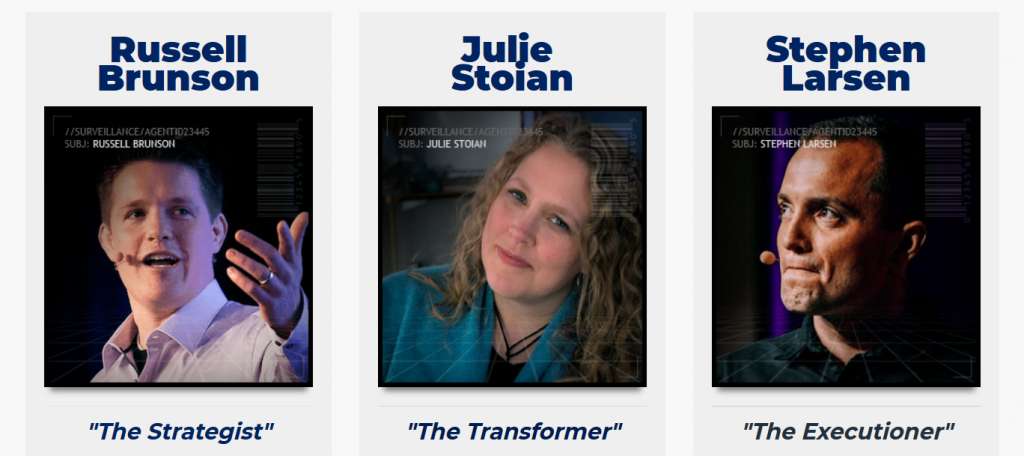 Now, let's take a look at the Coaches who conduct the One Funnel Away Challenge. Each of them adds a unique style and energy to this training.
Russell Brunson is the co-founder of ClickFunnels. Known as The Strategist, he offers daily video training to the participants of this challenge. He teaches you the approach and tactics behind constructing funnels, and tips on how to make everything work. You also learn ways of crafting an attractive offer and its importance in making your funnel a success.
The Vice President of Marketing at ClickFunnels, Julie Stoian is also referred to as The Transformer. She's an entrepreneur and a Two Comma Club Winner herself. Stoian focuses on the "how" part of the training. Her videos provide a step-by-step guide on how to practically implement instructions learnt from Brunson.
Another Two Comma Club Winner, Stephen Larsen is popularly known as The Executioner. He served as the Lead Funnel Builder at ClickFunnels for two years. He provides all the support you need, and pushes you to complete your daily tasks. Larson conducts his regular coaching sessions via live group calls. He's fun and energetic, and you're sure to enjoy his sessions.
What Is Included In The One Funnel Away Challenge Kit?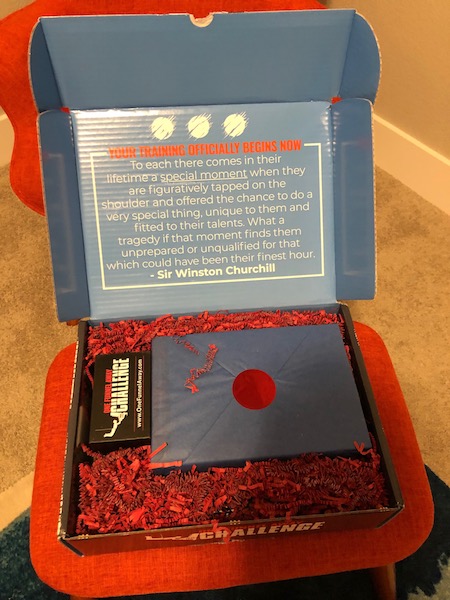 Here's what the OFA kit includes:
The Challenge Workbook
It's a spiral-bound copy of the award-winning "One Funnel Away Challenge workbook" that provides you with access to 30 days of coaching in printed format. Inside, there's a checklist of the tasks that you'll need to complete for each day's challenge. There's also space to brainstorm your ideas, and links to the videos for each of the missions. It helps you learn ways to construct the perfect funnel for your business.
30 Days Hardcover book
It's a 550-page book chock full with comprehensive plans from thirty 'Two Comma Club' members on how they'd start their business over if they lost everything.
MP3 Player
It includes audio recordings of Brunson's daily trainings, as well as Stephen's live coaching call recordings that he did during the first challenge. You can easily listen to all these recordings while on the move.
Digital Bonuses
They even send you a number of digital products, such as….
Facebook Group Access
You can enjoy access to their exclusive Facebook group that only members of the OFA challenge have access to.
Virtual Summit Videos
As a bonus, you receive access to the Virtual Summit Videos for thirty days, which allow you to learn from the experience of thirty connoisseurs who created success for themselves by leveraging the power of the Internet. You can use their approaches to create a business plan that can take you towards the path of success. In these interviews, the connoisseurs guide you through the entire process from start to finish, often with the help of visual representation. You discover why and how their techniques can help you find a new market.
Behind-the-scenes Interviews
And then there are behind-the-scenes interviews with the authorities who are associated with the Two Comma Club. These can help you capture new insights into the structure of your future communications. This part of the challenge lets you observe the exact funnels each contributor used to make it to a million dollars. You can acclimatize their approaches to create your own positive results.
Post-Training
The program culminates with post-training that guides you toward what your business needs over the next ninety days to keep yielding fruitful results.
Free Gift+Certificate
You also receive a congratulatory t-shirt and a certificate once you successfully complete the challenge.
How much is the One Funnel Away Challenge?
With so much to offer, you must be wondering about the cost of the entire challenge. The good news is this. It will only cost you $100 to take part in this Challenge. You can't even take your family out to a nice dinner for that amount of money! Going a bit further, the OFA kit does come with a shipping charge. Shipping will cost you $19.95 if you live in the US, and $29.95 if you live outside of it. If you really want to save money, and don't feel like you need the physical kit, you also have the option of purchasing the Digital Only version.
One Funnel Challenge Affiliate Program
It wouldn't be fair to write our One Funnel Away Challenge review without mentioning their affiliate marketing program. It's actually a really sweet deal, as they pay out 100% commissions! This can actually help you to recoup the entire cost of the course!
One Funnel Away Challenge: The Good, Bad and the Ugly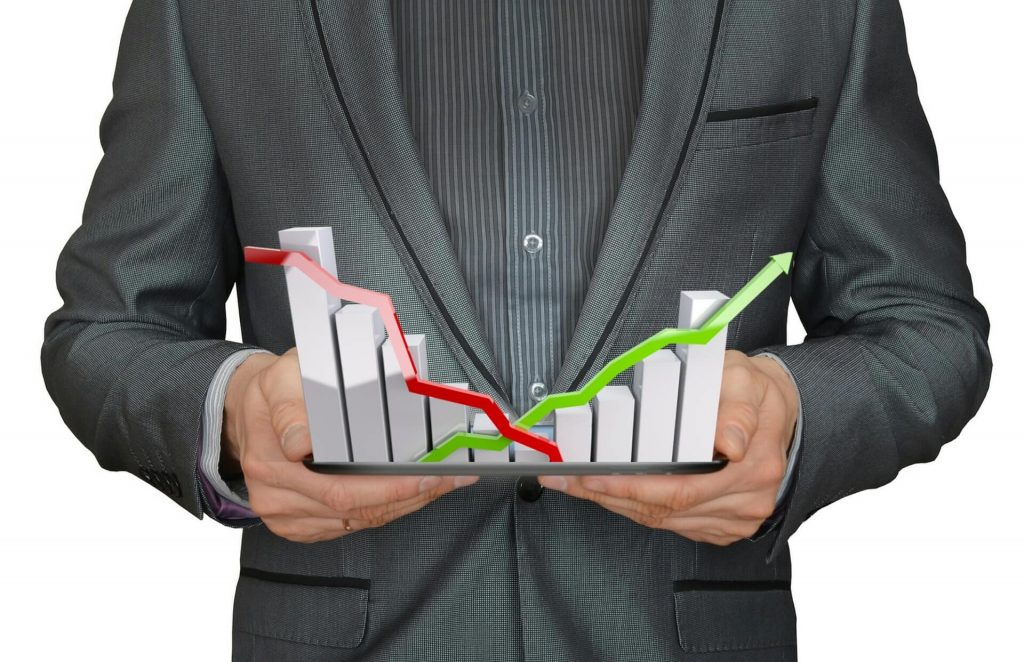 Now that you know what the One Funnel Away Challenge is and what mouth-watering goodies you can receive in the OFA kit, you might be thinking of investing your $100 in the next OFA challenge. But, wait. Not so soon, my friend! Just hold your horses right there. We've got to tell you something…. The good part is obvious. The challenge offers a great value for your money as far as the quantity and quality of training is concerned. After all, how much more can you get for just 100 bucks? The challenges are simple enough for anyone, and you'll feel productive because there are specific steps to follow. It helps you learn to believe in yourself. Also, there are ample resources that you get to keep after completing the challenge. But, here's the bad part….. …….You'll find that loads of content and daily homework will come your way, and if you aren't extremely well-organized, you could end up getting overwhelmed. At the very least, you will end up with an hour of extra work every day for about 30 days straight. And this does not include the pre-training week. Falling behind with this course is a very real possibility if you don't structure your time, and once you do fall behind, catching up can be a struggle. As the content is much more than what you can consume within 30 days, you're caught into the trap of just watching videos, one after another. And, you lose access to them once the course is over (and they claim it's because they want you to complete all tasks on time!). Also, it can be challenging for someone inexperienced with marketing or sales funnels to match the pace right away if you don't take time to prepare for the program before starting it. And, now comes the ugly part……. ……The One Funnel Away Challenge truly misrepresents the amount of time and money (and sweat and blood) that you'll have to put into your work. You aren't told exactly how you'll have to design and test funnel after funnel after funnel to find the ONE that works perfectly. By saying that you're just one funnel away, they conveniently hide the fact that you'll have to create many different funnels before you reach the right one. And, who knows how many days, months or even years it'll take you to get there! We all understand how time is an important constraint when developing an online business. You have to follow a pre-planned schedule. A slight variation in the timeframe can throw you off your goals. Add in an emotional clash and the fear of failure that you're going to constantly face…..Gasp! And, what about the long-term cost? Take a look at the One Funnel Away sales page and you'll end up thinking: "Whoa! All l need to replace my full-time job and create the life I always wanted is possible for a one-off fee of $100…" Unfortunately, this is not true. Here's the reality check: To be able to implement any of the training learnt during this challenge, you'll have to sign up for…… …you've guessed it right. Russell Brunson's very own ClickFunnels software! Wondering how we know it? See what he says about the sole purpose of this challenge on his website: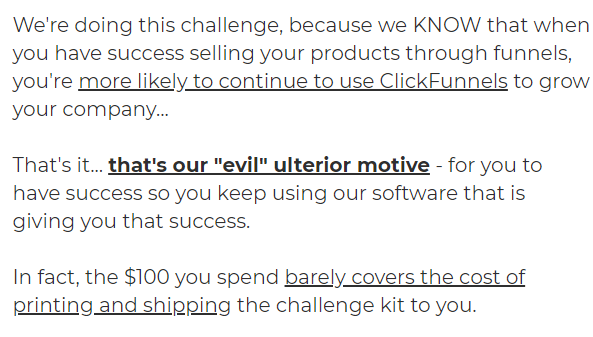 The truth is that One Funnel Away Challenge is just a trailer, and the comparatively low 100 bucks in fees is just to attract you into one of Brunson's sales funnels. After all, he is THE funnel guru! And guess what? ClickFunnels membership is NOT economical. After a free 14-day trial, expect paying $97 or $297 EVERY. SINGLE. MONTH!

How much would it cost every year? You can do the math! (Hint: It's A LOT!!) Remember, we haven't yet included the cost of driving traffic through these sales funnels, which can be huge. This means, along with paying your monthly ClickFunnels subscription fee, you'll also have to pay for online advertising before you can even think about making a sale. Factor in the cost of testing and tweaking your ad campaigns, and your budget will skyrocket really quickly. Here's the bottom line of our One Funnel Away Challenge review: Your $100 investment for the challenge is just the beginning, and you'll have a whole lot of additional costs waiting for you that nobody talks about (but should!).
How to build a successful funnel WITHOUT any program, course, or membership
While funnel softwares are all the rage these days, bear in mind that nearly everybody is using the same funnels. And, people are now struggling to make them successful due to oversaturation. Although we do agree that every online business needs a funnel, it doesn't have to be super expensive and/or complicated to make it work. In reality, the simpler your funnel is, the better. It could be as upfront as a blog post with a strong call-to-action (CTA) that leads your prospects to a sales page, or a YouTube video telling people to click on the link in the description box to subscribe. The possibilities are endless! So, what should YOU do to create a successful sales funnel? Ditch the fabricated funnel hype. Instead of falling for the idea of paying out hundreds of dollars monthly to run a successful online business, follow these easy steps to build your own empire.
1. Create Your Own Customer Base
The first step is to build an audience that's going to be your customer base. But first, be clear about who you're trying to reach. Identify their challenges and needs. Do they have any problems that you can solve? Identify your niche and then your target audience. This will help you come up with a very focused marketing plan that guarantees success.
2. Solve Your Prospects' Problem
Once you have identified their problem, the next step is to help them solve that problem. But it's not so simple. You'll have to dive in really deep. Connect with your prospects and add value to their lives. The trouble with the 'just one funnel' fallacy is that it doesn't help anyone, and you only end up spending money on expensive products. These trainings focus more on selling their product than actually teaching you ways to help other people find success. So, the only way you can attract a lot of organic traffic and reach an audience is by helping other people through your content. Even if you're running an affiliate program, think about adding value to the lives of your prospects.
3. Attain Your Prospects' Trust
You can only attract and retain customers if they trust your business. This is where just-one-funnel system falls short. It can't help you build relationships with your audience. You have to prove to your audience that you're a genuine entity who cares for them. Show that you can actually help them by producing valuable content. Consider making videos, blog posts, and other shareable content to establish yourself as an authority in your industry. Share your content for free to actually help people. This way, you'll have a loyal and receptive audience who trusts you. Unfortunately, no funnel or training can help you build this level of trust. You'll have to put in valuable content, hard work, and sincere effort to do that. And, with a loyal customer base by your side who trusts your business, you can even start your own affiliate program!
4. Polish Your Copywriting Skills
Without kickass copywriting, funnels are of no use….seriously! Copywriting helps you communicate your value proposition in a way that prompts action. From writing a sales letter, to creating a sales video, to crafting an engaging blog post, create content that grabs eyeballs, retains attention, addresses your potential customers' needs, and delivers your message effectively. People visiting your business website should feel you're offering real value at no cost. This is only possible if you can capture their attention with a memorable story. You may also subtly offer a product. But, by offering free content, you show that you value your relationship with the audience more than a single-time procurement from them. The just-one-funnel concept fails badly at establishing such a relationship. (Check out John Carlton's free copywriting course, The Simple Writing System, to learn more about copywriting!)
5. Leverage Technology
If you want to have a successful online marketing strategy, you just can't afford to miss technology. You'll need to leverage a set of technical opportunities if you really wish to make money for your business. For example, you may have to add a shopping cart to your website if you're going to collect payment from customers in exchange for some product or service. The One Funnel Away challenge obviously recommends using ClickFunnels for this purpose. However, there are several low-cost alternatives. For instance, you can use the WordPress plugin 'eStore plugin' to build your own shopping cart. There are also other alternatives to Clickfunnels that you can use. You can even build your entire funnel using WordPress, no fancy-schmancy stuff.
6. Fulfil Your Promise
So you have an audience hungry for great content, and kickass copywriting skills to satiate their hunger. But you can't really sell your product or service to customers unless….. ….your product/service actually delivers what you have promised! Your actions should speak louder than your words. So, the next step is to craft an offer that solves your potential customer's problem, and then deliver on it. Genuinely help people through the process of transformation. This is what they want. Overhyping products that aren't actually going to help people in real life is a pretty bad strategy. You'll end up getting a lot of refunds, and the worst part…..your audience will realize that you're actually just trying to sell your product, rather than striving to bring a real, positive change in their lives. So figure out all of the solutions your audience needs to achieve results, and see if your offer solves their problem.
7. Bring in Web Traffic
No matter what it takes, you HAVE to drive traffic to your website if you want to sell your products or services. It's the only way you can get people to actually see your offer! This is where just-one-funnel systems fail again, as most of them depend on running ad campaigns that drive hogwash, non-targeted traffic to your website. To bring in organic, targeted traffic, you should focus on content marketing. It may take time, but it's a long-term solution.
8. Maximize This Traffic
Next, you can use this traffic to create an email list that's a great asset when it comes to marketing your offers to those who are really interested in what you're trying to sell. However, it's important to keep in mind that with great traffic comes great responsibility. Without creating and nurturing a trust-based relationship with your audience grounded on valuable organic content, you can't maximize your web traffic when pitching your offer. Remember, the greater the trust level, the more likely your audience will be to purchase your offering.
Wrap Up
You'll find a lot of positive reviews on the One Funnel Away Challenge all over the internet. Although there are some occasional voices that are disappointed with the amount of work that this training entails, the majority of those who have taken this challenge seem to appreciate the marketing knowledge that it has provided them with. I have no doubt about the quality of content that this training offers. However, I also believe it's important for you to see a clearer picture before jumping in feet first. That's why I've explained everything in detail in my One Funnel Away Challenge review. If your business is struggling with funnel building and converting prospects into loyal customers, then there could be a problem. But, the One Funnel Away Challenge is certainly not the ultimate solution. You don't need any special software, paid course, training, program, or membership to come up with your own sales funnel that converts like crazy. Really. The 8 steps above can help you solve the problems your business faces during the conversion process. They might come in handy in developing a story that solidifies your brand value.